performance at the exhibition YouRomantix opening.
(moving pictures start at 3'56")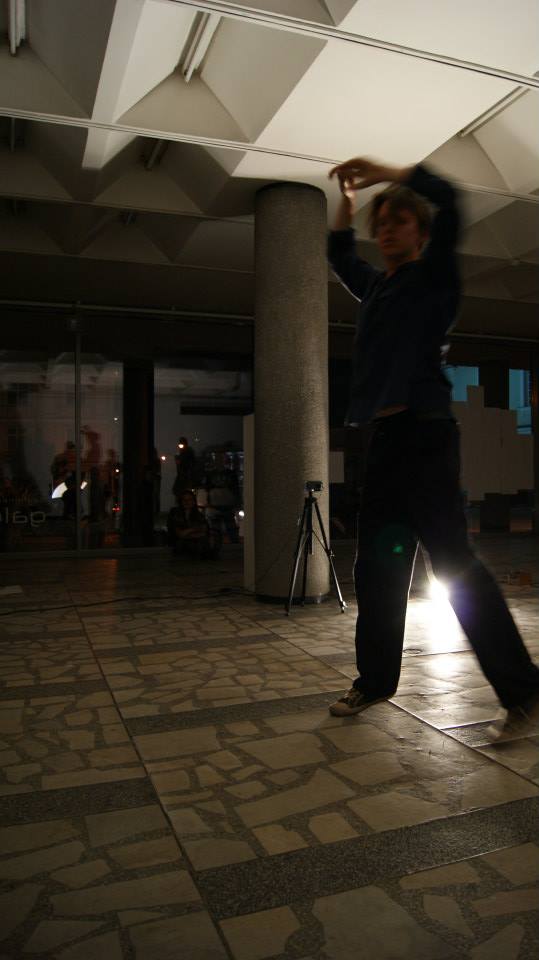 adhesion is a art collective of three people: a dancer, Kaspar Aus, and two instrument players, Villem Jahu and Hannah Harkes. The collective was formed sometime in the winter of 2013-2014.
adhesion appears mostly through performances using body-space-movement tactics.
adhesion evades performances that occur on proper "stages". It prefers to dwell in more intimate places : small kitchens, elevators, toilets, baths, bedrooms…
The venue (or the exact location within a venue) is a determinant factor in shaping the performance. The limited space of a chosen venue holds a tense relationship with the magnitude of the sound – the space becomes malleable through the combination of silence and loudness.
The sound could be described as a loud low frequency gorgling of bass, mixed with high psychedelic shrieks, hoots and howls. There is definitely some absurd teenage fantasies of heavy metal remaining inside somewhere.
The dancer responds through his bodily movements to the sound as well as to the energy that exists in the space between the observers and the performers, trying to find the spirit of togetherness and creating a totally new reality together with sound in the imagination of the people present. The rule of dance is that there are no fixed points in the space. It flows and emerges in the present moment and can express within its own limits whatever it expresses.

EAR SWAP
sound dislocation – guided tour
past Ear-Swap walks
2014 march – Tallinn, Ptarmigan
2014 june – Helsinki, festival Pixelache
2014 june – Vilnius, festival Bitevilnius
2017 october – Klaipeda, 7 DAYS OF SOUND
Ear
Swap
 is a workshop in dislocating sound and experiencing public environments through the explorative movements of another person. Participants temporarily surrender to each other the ability to guide their own 
ears
 and thus lose the power to intervene with the sounds they hear, whilst being given absolute control over what is sent down the 
ear
 canals of another.
As well as allowing us to listen to various different public settings through the 
ears
 of someone else, the mediation method also singles out some frequencies above others (discriminating in favour of women and children), which serves to further distance the method from our regular system of hearing.
We will provide the technological equivalent of chopping each participant's 
ears
 off, mixing them all up and then attaching each set of 
ears
 to a new owner before embarking on a one hour long guided walk.